RemoteDrishtee 's Attendance Management solution ranges a variety of Attendance solutions to suit business requirements of varied enterprises. Cloud based Attendance enables consolidated & real-time reporting of attendance from multiple standalone attendance readers. Cloud solution enables quick deployment and zero server maintenance hassles for corporate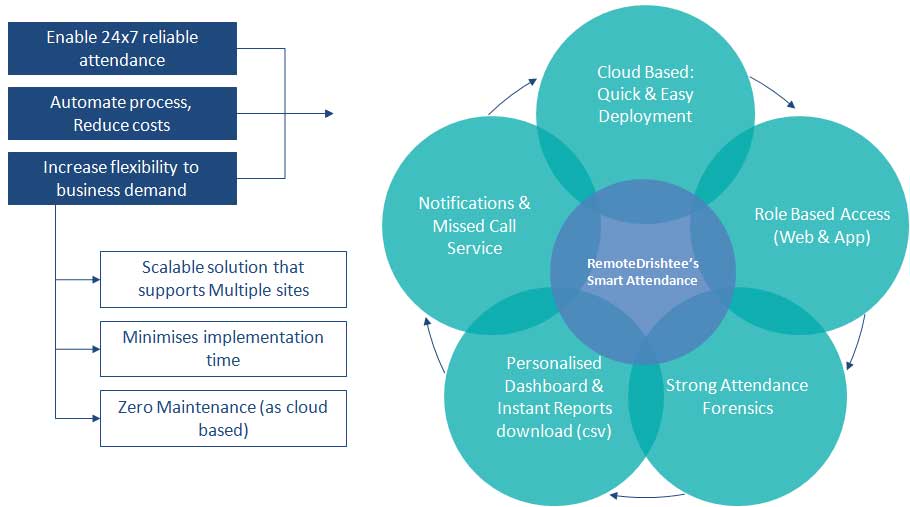 Access & Attendance – Device Options
Attendance Device  Selection Chart
| Parameter | RFID Gate | Long Range RFID | Biometric | HF Short Range |
| --- | --- | --- | --- | --- |
| Sign-In Speed | ★★★★ | ★★★★★ | ★★ | ★★ |
| Low "Read Failure" Rate | ★★★★ | ★★★ | ★★★★★ | ★★★★ |
| High Volume Attendance | ★★★★★ | ★★★★★ | ★★ | ★ |
| Handles "Forgot-Card" cases | ★★★★★ | ★ | ★★★★★ | ★★★ |
| IN/ OUT Direction Sensor | ★★★★ | ★★★ | ★★ | ★★ |
| Location of Personnel | ★★★★★ | ★ | ★★★★★ | ★★★★★ |
| User-friendly Sign-in | ★★★★★ | ★★★★★ | ★★ | ★★ |
| Label Cost/ Life-time | ★★★★★ | ★★ | ★★★★★ | ★★★★★ |
| Product Safety | ★★★★★ | ★★ | ★★★★★ | ★★★★★ |
| Space Occupied | ★★ | ★★★★★ | ★★★★ | ★★★★ |
RFID Gate Technology is a highly scalable and accurate mass-attendance solution that combines a host of technology components to ensure a 100% accurate attendance.
Solution comprises of passages formed through multiple RFID & Infrared Gate panels which record Smart School Attendance System using RFID Cards and Cloud Technology that records attendance of thousands of students as they rush through school entrance (Zero Queue Mass Attendance Solution). Camera attachment provides the crucial forensic trail should the attendance get challenged
Key Features:
Supports ISO15693, ISO14333 protocol tag

Highly Reliable (uses RFID – HF 13.56MHz, Infrared & Image Forensics)

Hassle-free, Real Time Attendance Solution with 100% Identification.

Good Reading Distance & High Efficiency

Easy proxy-detection

Highly scalable through parallel Multiple-aisles

Inventory Tags in Two-dimensional Orientation

Sound & light alarm and anti-trailing in case of passing without card

Power and temperature detection to improve the devices reliability

Noise detection makes it widely usable in complicated places.
RemoteDrishtee UHF Reader is a high performance UHF RFID integrated reader that supports fast tag read/write operation with high identification rate. It can be widely applied in many RFID application systems such as logistics, access control, anti-counterfeit and industrial production process control system.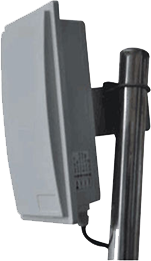 Support ISO18000-6B, ISO18000-6C(EPC C1G2) protocol tag;

902~928MHz frequency band;

FHSS or Fix Frequency transmission;

RF output power up to 30dbm(adjustable);

8dbi antenna with effect distance up to 3m/6m;

Support auto-running, interactive and trigger-activating work mode;

Real time attendance dashboard
Combined time attendance and door access control

Supports 1000/ 3000 fingerprints , 100.000 records

GPRS based connection to send data directly to cloud servers

Option for add-on RFID Reader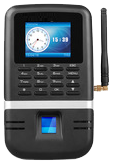 Entry Level RFID Card Reader for ISO14333 HF 13.56MHz
Provides firm GPS location along with attendance data
GPRS based connection to send data directly to cloud servers
Very suitable for remote sites, moving vehicles etc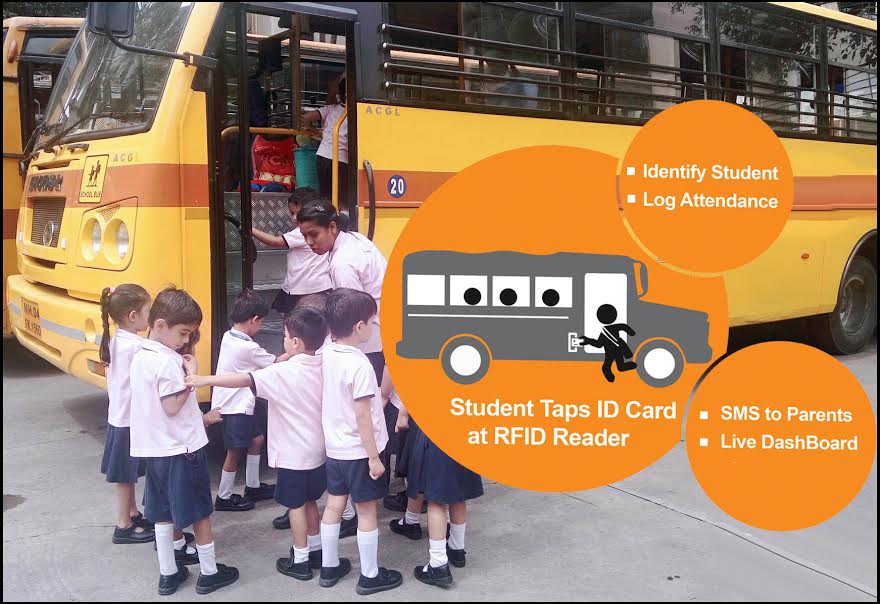 RIDERSHIP TRACKING IN BUS/ OFFICE CABS